Victor Junior OLVE Tournament 2014
News
Final results
The final
poule
,
KO's
and
challenge cup
are available.
Updates
There have been some injuries the last few days. The updated draws are now online. There are changes in the following groups:
GS U15 group H and QGS U17 group G and J
BS U17 group M and N
17/04/2014
Sports hall addresses
16/04/2014
Den WillecomTer Elststraat 2 2650 Edegem
De NachtegaalDuffelsesteenweg 1452550 Kontich
Draws
14/04/2014
The 2014 draws are available on this website's Draws and Results section, and on Tournament Planner.
2 sports halls
13/04/2014
Just like the previous years on Saturday U11 and U13 will play at De Nachtegaal, and U15 and U17 at Den Willecom. On Sunday and Monday, everyone plays at Den Willecom.
Draws online on Monday
12/04/2014
We will publish the draws on this website and tournamentsoftware on Monday evening. One week to go until the tournament. We're very much looking forward to it, I hope you to?
Player list online
07/04/2014
You can find the list of players for this year on toernooi.nl. In a few days, it'll also be available on this website.
Participating teams
30/03/2014
You can find all the participating teams for 2014 on our teams page.
3 weeks to go
30/03/2014
Only three weeks to go. It's been a bit quiet on this website, but we're working very hard in the background to organise a kick-ass tournament again.
This year's poster: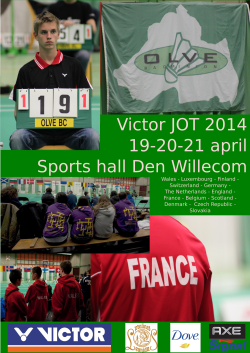 You can follow us on Facebook and on Twitter: @Victor_JOT
Tournament full
19/01/2014
Our tournament is full again. We have had a huge amount of inscriptions, and had to disappoint some teams. So for the teams who haven't inscribed yet, please try again next year.
JOT 2014 Invitation
08/09/2013
Dear Badminton friends,
At the beginning of September, we want to inform you about next year's VICTOR JUNIOR OLVE tournament (U11, U13, U15 and U17).
Next year, in 2014, we will be glad to welcome you as from Friday, April 18. Our tournament will take place from Saturday, April 19 until Monday, April 21.
Attached to this e-mail you will find some general information, an intention of participation and our entry form. Please mark that we had to make some regulations regarding the acceptance of the entries: you can find all relevant information in our 'VICTORJOT_TOURNAMENT_2013' document.
Please note that we will reply on every e-mail that you have sent as a confirmation of receiving your e-mail. If you don't receive a reply, we probably didn't receive it so please send it to us again.
Hope to see you next year at our tournament.
Best regards,
The JOT-Team
P.S.: Those of you who have already been at our tournament know Karen as the person responsible for everything regarding entries. After 11 years Karen wants to focus on other things, so I - Sandra Verbrugghe - am your brand new contact.